I know this greeting comes a bit too late since we are already into the 6th day of the lunar calender.

This CNY we didn't travel to anywhere because we all know that it will be jammed all the way to the North. Since my sis and Grandma is here in KL so we decided to stay back and have a quiet CNY because we really need to take the break instead of going around with a tight schedule, especially when you go back to your own hometown.

Our only problem is a whiny kid whom wanted to go out all the time. Keith kept whining and crying for us to go out for the past few days. So much for a relaxing CNY holidays because of his demands we ended driving around KL with so many others still in town. I guess CNY in KL is no longer as dull as it used to be in the past. Probably more and more people are settling down for real.

One day those days we ended up in Sunway Pyramid because we have not visited there since they have extended the place and we did take a few pictures but I am only gonna post one because they are all repeated pics :P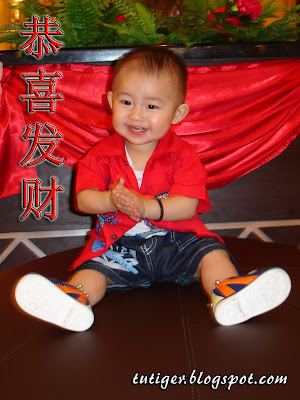 We have only got Keith to go the "Gong Xi, Gong Xi" gesture 2 days before CNY.

I am really sorry because lately I don't feel like taking pics due to work pressure.