On Tuesday morning we went back to Penang for quite a few reasons for the single trip. We went there in my sister's car and on the trip was Elaine, Grandma, my sister, Keith and I. Our main purpose there is to:

Take grandma for her checkup in GH.
To spend a day with Nicole.
To pay our respect to my stepfather.
We started the journey at 3 am with me driving all the way to Penang and we reached Juru at about 6.30 am. Problem is we have to spend almost 2 hours there waiting for Nicole despite my sister calling her dad at 5.30 am (he works the night shift)
We drove to Penang via the Penang Bridge which is really jammed up for no particular reason. I really wonder why the cars keep jamming up on a straight road!!! Upon reaching the GH, it took less than 2 hours for Grandma to complete her checkup, since she has my cousin, Melinda and her husband, Johnny to take her monthly medicine for her. my sister took over the driver's place from GH. Initilally Nicole was rather quiet, probably because she just woke up after a while she was her talkative self as soon as we were in GH.
Right after that we went for some Dim Sum for our breakfast, which we have to skip this morning because Grandma was supposed to fast as she has to have her blood sample taken on this visit of hers. Next stop was at my uncle's place in Penang Street, the place where I grew up. My aunt was very hospitable and she even gave us very tasty porridge for Keith and Nicole. Elaine and Grandma learnt from her how to make the porridge as well as how to keep it warm all day instead of having to reheat it up (avoiding the creation of
wind (foong)
in the process) She also gave us 2 laptop backpacks (just what I intended to buy) and a few Dry-Comfort T-Shirts.
After that we went for some sight-seeing and we couldn't really agree on where to go to for our next meal. In the end I decided to stop by the tea house in Pulau Tikus, with their very quiet ambiance, I took the opportunity to take some pictures.
Nicole while she was enjoying the "Tea Egg"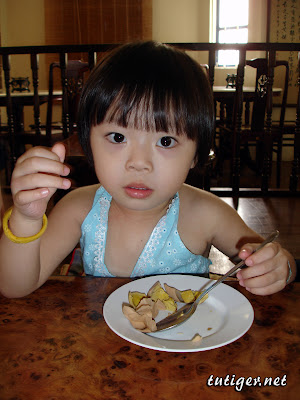 I guess she is beginning to feed herself now and she still likes soup a lot because she almost finished a whole bowl of it by herself.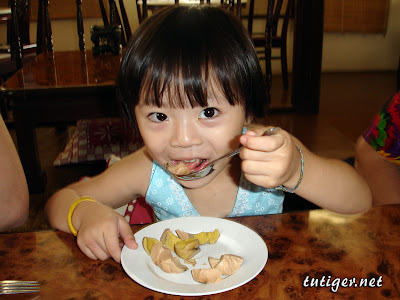 I manage to have my hands on the camera because......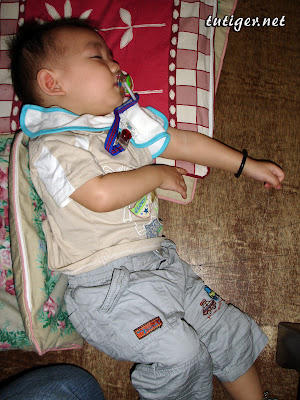 But someone was being a handful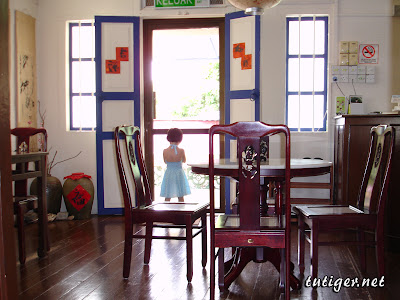 Because she was starting to explore the place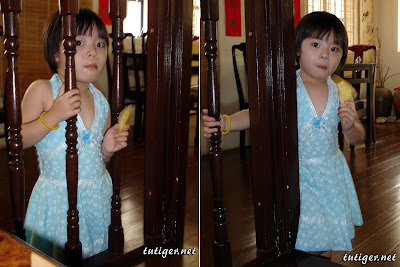 Then we bought some Boon's aniseed water (
"pak yeok sui"
) which was on offer RM17 for 2 bottles at the Boon's Pharmacy in Pulau Tikus. After buying some prayers stuffs we drove to the Berapit Cemetery to visit my stepfather. I guess we were really unprepared to carry out our
Ching Ming
this year because we have missed out on a lot of things due to lack of communication on what is needed. Lesson learnt here and I really need to prepare all those things personally. Anyway I took back the driver's seat from the cemetery onwards. Anyway to those needing to know, Nicole and Keith had stayed in the car with Grandma when we offered our prayers.
After that we drove around town a bit and drove to Melinda's office to drop my mum's medical card for her. We could not decide where to go to for our dinner and in the end we went to Alma for some Thai food.
Nicole insisted in sitting next to Keith and kept trying to pull his baby chair towards her to be keep the space between them to the minimum.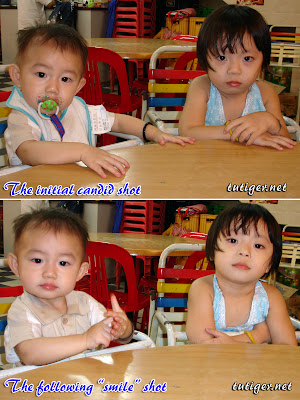 Keith was very happy to see his cousin, Nicole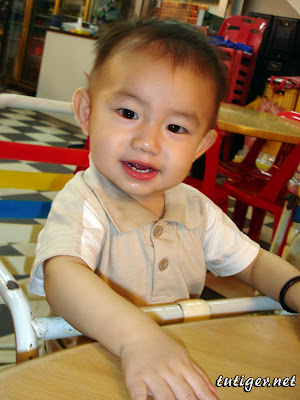 Nicole seems to have turned very cool and posing with her
peace
sign too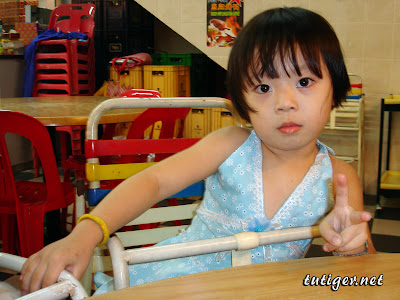 After that we went to the McDonald's in AutoCity for my sister to meet up with Nicole's dad and we started our journey back to KL from there. We didn't say goodbye to Nicole but we promised to see her another time which we hope would be very soon.
I took a short nap while my sister drove to Sg Perak R&R for petrol, which I took the driver seat from there on. We were all being very quiet during the trip because I knew that we were all being very sadden having to leave Nicole in there. We were rather shocked because Nicole informed us of her misfortunate that her aunt ,whom babysits her, had hit her on the butt before for a few times and also her dad hardly takes her out. Despite the fact that they are officially divorced, we were all very grateful that he had earlier tended to my stepdad's grave a few days before our visit.
P/S- On purpose I have to leave the adults out of the pictures because we looked exactly like pandas that day!!!!